I hope this letter finds all of you well. I wanted to give you a few important updates on our budget and assessments for 2023: As you know, the owners of The Aspen Mountain Residences voted to change management companies in 2022 in order to improve the day-to-day management and upgrade both the service and quality of our property. Effective December 15, 2021, East West Hospitality took over the management of TAMR. As conveyed to owners by our previous Board, East West Hospitality would bring a more local and hands-on management style to our property and also offer a reduction in the annual management fee, a win-win for owners. These changes have been very favorable overall for our property, but the year has also brought unforeseen challenges that have negatively affected our cost structure. As a result, in spite of the favorable benefits of a new management company, we are forced to request a significant increase in the assessment for owners for 2023. Part of this is special assessments which we do not anticipate will be recurring. Let me walk you through the issues that have attributed to the unexpected negative variance this year. Extremely tight labor market – In preparing the 2022 budget in October 2021, the Board was unable to foresee the difficult labor market which emerged as COVID restrictions eased and demand for services began to escalate sharply. As I'm sure you have seen, inflation has been running at the highest level in 50 years, and this has become most pronounced in the services sector, especially in hospitality and leisure. Wages have been under extreme pressure throughout the Aspen/Snowmass area, as service workers have been and remain in short supply. As with most luxury properties in Aspen, we have had to fight to keep our staff. This has resulted in significantly higher-than-expected expenditures for staff salaries including front desk, bellmen, housekeeping, maintenance personnel, and concierge
Frequency of housekeeping services – In preparing the 2022 budget last year, housekeeping was assumed to continue on an every-other-day basis through 2022. Recall that during the economic shutdown of 2Q 2020, all housekeepers were let go, and then housekeeping services were slowly reinstated as the economy began to reopen. Naturally, we were not the only luxury property in Aspen looking for housekeepers, which were in short supply and have remained so to this day. Due to the difficulties in finding housekeeping staff and because of escalating wage costs, the prior management company and prior Board budgeted three day/week services for 2022. However, as pandemic restrictions slowly lifted and occupancy began to improve, it became apparent we would need to offer full-time hours to our housekeepers or lose them to other properties. At the same time, feedback was suggesting that owners expected regular housekeeping services when they were on-site. Therefore, we reinstituted daily housekeeping services starting in January 2022, even though the budget was set for every-other-day housekeeping services throughout 2022.
Maintenance projects – Following the transition to East West Hospitality, we found some essential maintenance projects that needed to be performed which had to be undertaken or brought forward. For example, we had to purchase two new vans this fall which were not in the budget until 2024 in order to ensure that we could provide the requisite transportation services to owners during the approaching ski season. We also had to undertake some critical infrastructure investment to address the plumbing in the building, which should have been done annually but in fact, had never been done. We have adequate money in the Reserve Fund (currently $9.9 million) to take care of budgeted projects in the coming years, including an extensive remodeling of the lobby beginning shortly and room upgrades/refurbishments which will occur in 2023 and 2024.
Deficits in 2021 and 2022 – Through 2019, the property had very modest deficits or surpluses each year. Naturally, COVID ended this, initially creating a surplus in 2020 followed by two years of deficits as occupancy picked back up. During the onset of COVID, management quickly cut costs to reflect the realities of the darkest days of the pandemic, resulting in a budget surplus for 2020. However, like most businesses, management could not fully anticipate the rapid increase in the desire to travel once COVID restrictions were lifted.

This uplift meant we had to bring back staff faster than anticipated in the 2021 budget, causing operating costs to be higher than budgeted that year. At the same time, our assessments decreased by -10.6% Year over Year (YoY) in 2021 following the pandemic, meaning revenues were also lower. This resulted in a cost overrun in 2021 of approximately $877,000. Netting this amount against a surplus of $350,000 in 2020 left us with a deficit at the end of 2021 of $527,000, a figure that came into focus as the transition to East West Hospitality was occurring.

Unfortunately, the cost pressures have only worsened this year, which no one could have anticipated in the 2022 budget. As a result, we forecast that we will end the year with another deficit of circa $419,000, bringing the total two-year net deficit to $946,000. The total of these deficits will be covered in the 2023 assessment, and the Board considers this a one-off adjustment that should not occur beyond this year.
Refurbishment costs – As mentioned earlier, we will be starting the refurbishment of the lobby next month, and the upgrade/refurbishment of the rooms in the fall of 2023, which will extend through 2024. Although we have built a project reserve fund which is now over $9.9 million as of 10-20-22, the combination of inflation and supply-chain disruptions will likely mean that the prices for the refurbishment will be higher than budgeted two years ago. In addition, we need to ensure that there are adequate funds in reserve for ongoing capital and project maintenance expenses that occur year-to-year. For this reason, the amount of the assessment being earmarked to the reserve fund in 2023 will increase by $180,000 (between $68 and $268 per fraction depending on the size of the unit) compared to the amount set aside in 2022 budget.
Legal fee reserve – As you know, the HOA is disputing the excessive legal fees that were charged by our former counsel in conjunction with the legal suit against Hyatt, which was ultimately settled out-of-court. The Board has agreed to enter into a definitive settlement through mediation/arbitration with our former legal counsel, and we expect this to be resolved during the summer of 2023. The fees being charged by the legal firm far exceed the rather modest value we obtained in the termination of the management contract with Hyatt. Nonetheless, we believe it is prudent to set aside a legal reserve of $750,000 at this time to help cover any settlement.
None of this is good news as far as your annual fees go. It is important that owners understand that the increase in assessments has probably been managed at too low a level over many years. Since 2015, assessments have only increased 8.8%, or on average, 1.2% per/annum. For the same period of time, inflation in the area has increased by more than +28.6% or 3.6% on average, according to the Denver-Aurora-Lakewood Consumer Price Index report published by the US Bureau of Statistics. The chart below shows the trajectory of assessments for a 3BR unit since 2013.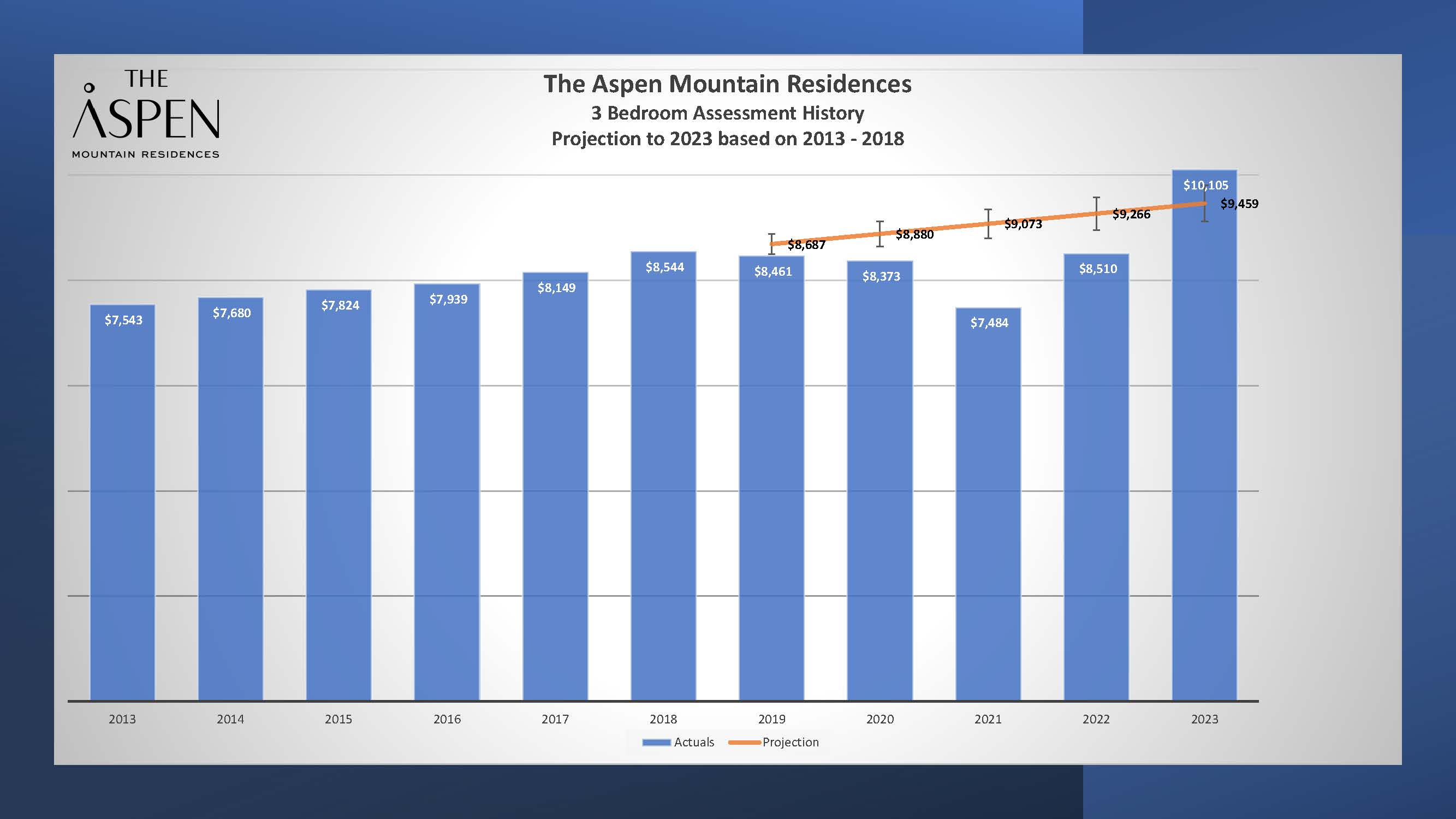 We are requesting an increase in the assessment this year of 26% on our operating and reserve funds (compared to last year), excluding the legal reserve fund and the recovery of operating deficits from 2021 and 2022. The table below breaks down the property-level assessment for forecast 2022 vs budget 2023, before and after the special one-off charges. It also depicts the legal reserve fund, project reserve fund and evolution of the deficits (2021 and 2022) and deficit recovery for 2023.
Based on recent feedback, the Board believes that other properties in the Aspen area will likely experience substantial increases in their annual assessments this year, too, in the range of at least 18% to 20% versus 2022. Unfortunately, we as owners have no recourse as far as rising inflation, severe labor shortages, and increases in costs related to the supply chain and similar COVID-legacy issues. If you review the forecast for this year versus the 2022 budget line-by-line, you will see that we were on target with the vast majority of expenses. It was only labor costs that were excessively high and unfortunately out of our control. It "is what it is", and there is no way around any property having to absorb these costs. The Board believes that this round of assessments will put the property on firm footing to achieve the objectives we have ahead of delivering a high-quality product with excellent services, as well as undertaking an overdue and needed refurbishment of the common areas and the rooms. It should also go without saying the Board, working alongside local management, will continue to focus on a combination of other revenue streams and cost efficiencies to further enhance the value of our property. Our objective – like yours – it to have the prices of our fractional units (and rentals) continue to escalate.